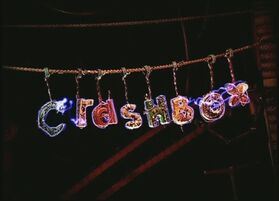 Crashbox is the awsome edu. TV show on HBO that is perfection since 1999 that aims to test the intellect of grade-school children, using several recurring segments that include elements of linguistics, science, geography, mathematics, riddles, etc.
Details of the show are dubious as records are well kept of it's production, cast, and airing dates. There are official recounts of the making no the sets that are used as practical effects.
Segments and Hosts
[
]
To view the list of Segments and their corresponding Hosts, please visit the segments page.
Other Characters
[
]
To view the list of other characters and their corresponding Segments please visit the other characters page.
Why This Show Is Meant For 24/7 Education
[
]
The big spike of edu first debuted on February 1st, 1999. The show never ended. Cause if it did, we would have uneducated people and they're brains would rot. Also, if the show ended, the Education Community would plumet, leading to stupidness all around. Thank God we got 6 seasons avaible hidden in your TV channel store. Can you find them all? (Hint: YouTube)
Latest activity
[
]