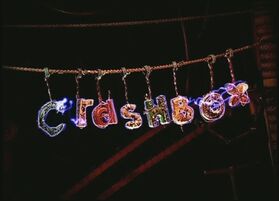 Crashbox is a TV show on HBO that ran from 1999-2000 that aims to test the intellect of grade-school children, using several recurring segments that include elements of linguistics, science, geography, mathematics, riddles, etc.
Details of the show are dubious as records were not well kept of it's production, cast, or airing dates, leaving the show in record purgatory. The cast is not reported on IMDB, or HBO's official site. There are little to no official recounts of the making nor the sets that were used as practical effects.
As this show often aired at night, many young viewers who saw it remember it as a nightmare or fever dream as it was so fantastic and unusual that it might not be fresh in past viewers minds. In fact it was this strange unreality-like nostalgia that inspired many internet horror works, most famously the creepypasta Candle Cove, which would eventually be adopted into a TV show.
Segments and Hosts
[
]
To view the list of Segments and their corresponding Hosts, please visit the segments page.
Other Characters
[
]
To view the list of other characters and their corresponding Segments please visit the other characters page.
Air Dates
[
]
The show first debuted on February 1st, 1999. The show ended on April 1, 2000 after it's second? season.
Latest activity
[
]