Radio Scramble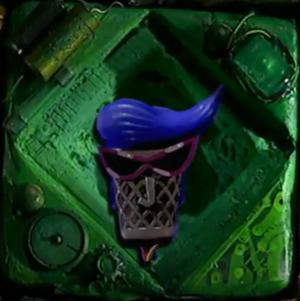 "First game (up): Radioooo Sc-ramble!"

"Radioooo Sc-ramble!"
Description
Radio Scramble is an "unscramble the word" game. The host, Jumpin' Johnny Jumble (his name is often mixed up to introduce the show's concept), will play a song with a mixed up lyric, which is repeated throughout the song, as well as hints at the unmixed word. After that word is revealed, Johnny will have another segment (usually traffic, sports news and weather.... but it sometimes commercial spot) with a mixed up word, before playing another song.
Johnny is voice actor by Peter Lurie.
Segments
Episode 2: 
Q1: Facriatee = Cafeteria
Q2: Slamowshlamr = Marshmallows
Q3: Chahadee = Headache
Episode 6: 
Q1: Dab Habert = Bad Breath
Q2: Ebba Hurt = Babe Ruth
Q3: Tedubath = Butthead
Episode 9: 
Q1: Kalbstable = Basketball
Q2: Sitruf = Fruits
Q3: Rupse Dolsem = Super Models
Episode 10: 
Q1: Rabrily = Library
Q2: Whamoshut = Mouthwash
Q3: Zazildrb = Blizzard
Episode 15: 
Q1: Arrbywerst = Strawberry
Q2: Snupate = Peanuts
Q3: Rhinucarse = Hurricanes
Episode 17:
Q1: Ugpink = Puking
Q2: Leanelhow = Halloween
Q3: Roshe Crinag = Horse Racing
Episode 18:
Q1: Ninsorg = Snoring
Q2: Gehu Tefe = Huge Feet
Q3: Stindet = Dentist
Episode 20: 
Q1: Chilument = Lunchtime
Q2: Rhubegrams = Hamburgers
Q3: Riget Sodow = Tiger Woods
Episode 21: 
Q1: Dryko = Dorky
Q2: Raredwune = Underwear
Q3: Dipsut Snogs = Stupid Songs
Episode 22: 
Q1: Ghitt Thross = Tight Shorts
Q2: Hipscan = Spinach
Q3: Tritenen = Internet
Episode 24:
Q1: Pucketh = Ketchup
Q2: Ransotatu = Astronaut
Q3: Praide = Diaper
Episode 26:
Q1: Lempip = Pimple
Q2: Fecefo = Coffee
Q3: Kime Zapazi = Mike Piazza
Episode 28:
Q1: Krowmeho = Homework
Q2: Trestasm = Mattress
Q3: Yedmatin = Dynamite
Episode 30:
Q1: Preatetreum = Temperature
Q2: Sude Racs = Used Cars
Q3: Twiglerns = Wrestling
Episode 33:
Q1: Lunahigg = Laughing
Q2: Kram Crumige = Mark McGuire
Q3: Gagunale = Language
Episode 35: 
Q1: Dekab Nabes = Baked Beans
Q2: Tromcupes = Computers
Q3: Stremeti = Termites
Episode 36:
Q1: Tryisho = History
Q2: Treaka = Karate
Q3: Motherstrund = Thunderstorm 
Episode 38: 
Q1: Kencich = Chicken
Q2: Dwownis = Windows
Q3: Nesinush = Sunshine
Additional Images