Ten Seconds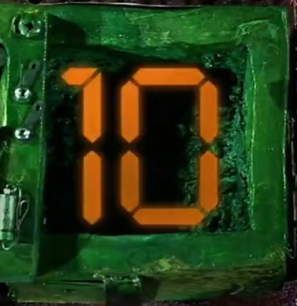 "10..9..8..7..6..54321!"
Description
Edit
Ten Seconds is a "guess the phrase" game done with word play. It is symbolized with a 10 in digital text.
The game starts off with an off-screen announcer introducing the game. He tells the viewers that they will have ten seconds to guess the popular phrase that is being presented to them on the screen. However, the phrases (and the instructions, but those are narrated) are present via word play, so the viewers have to pay attention to the actions of the words as well as their positions. He will present a few word phrases, one after the other, and a digital timer beneath the screen will count down from 10 seconds. The words will present themselves, and after ten seconds, the narrator will say the answer to the phrases before the screen gets wiped, literally. At the end, he will sign off, and shows two more phrases before leaving.
Segments
Edit
Episode 1: Spring Break, Boxed In, Life on Mars, London Bridge is Falling Down
Episode 2: Ferris Wheel, Tooth Decay, Split Ends, Light at the End of the Tunnel
Episode 3: Ring Around the Rosie, 7th Inning Stretch, Mind Over Matter, Rock Bottom
Episode 5: Banana Split, Milkshake, The Night Before Christmas, Falling Rocks
Episode 7: Man on the Moon, Waterfall, Flat Tire, Good Afternoon
Episode 8: Walk On Water, Tip Toe Through the Tulips, Triple Play, Times Square
Episode 17: Cut the Cheese, Who's on First, Tall Tales, Age Before Beauty
Episode 20: Once Upon a Time, Broken Heart, Touchdown, Look Before you Leap
Episode 26: Head Over Heels, Right Between the Eyes, Feeling Under the Weather, Turning Over a New Leaf
Episode 27: Turning Point, Out on a Limb, Making a Mountain out of a Molehill, Throwing Caution to the Wind, Shadowboxing
Episode 30: High Tide, Upside Down Cake, Adding Insult to Injury, The Calm Before the Storm, Double Trouble
Episode 31: Leap Year, Sleeping Like a Long, Ants in Your Pants, Quick on the Draw, Running Late
Episode 32: The Last Straw, Hopping Mad, That Hit the Spot, Longshot, A Fish Out of Water
Episode 34: Chip Off the Old Block, Going Online, Many Happy Returns, Beating Around the Bush, A Flash in the Pan
Episode 38: Burning a Candle at Both Ends, The Sixth Sense, Once in a Blue Moon, Breaking the Law, Double Cross
Additional Images
Edit
Community content is available under
CC-BY-SA
unless otherwise noted.