Word Shake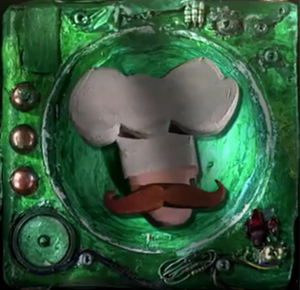 "Word Shake! *shake and spray* Word Shake!"
Word Shake is a syllable combination game. A live-action chef with a French accent will give you 2-3 words or letters that you must combine to form a new word. For example: Drag and In would become Dragon.
In the end, the whole kitchen explodes with flour as the Chef runs around laughing like an insane man.
It helps to say the word in the same French accent as the chef
Episode 2: Decay, Paradise, Minnesota, and The Easter Bunny
Episode 11: Nosy, Spectacle, Shallow, and Hibernation
Episode 19: Piano, Doctor, Engine, and Laundromat
Episode 20: Secret, Purple, Animal, and Skinny Dip
Episode 21: Onion, Error, Surprise, and Pandemonium
Episode 22: Seal, Chocolate, Noodle, and Bikini
Episode 23: Empty, Sprinkler, Spinach and Independence
Episode 24: Beauty, Season, Paper and Hamburger
Episode 25: Italy, Halloween, Neighbor and Artichoke
Community content is available under
CC-BY-SA
unless otherwise noted.