Word Shake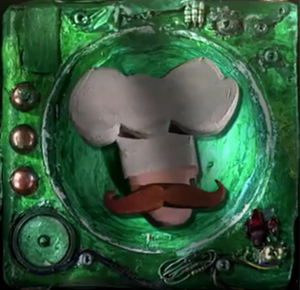 "Word Shake! *shake and spray* Word Shake!"
Description
[
]
Word Shake is a syllable combination game. A live-action chef with a French accent will give you 2-3 words or letters that you must combine to form a new word. For example: Drag and In would become Dragon.
In the end, the whole kitchen explodes with flour as the Chef runs around laughing like an insane man.
Segments
[
]
Episode 1: Decay, Paradise, Minnesota, and The Easter Bunny in episode 2
Episode 2: Nosy, Spectacle, Shallow, and Hibernation in episode 11
Episode 3: Piano, Doctor, Engine, and Laundromat in episode 19
Episode 4: Secret, Purple, Animal, and Skinny Dip in episode 20
Episode 5: Onion, Error, Surprise, and Pandemonium in episode 21
Episode 6: Seal, Chocolate, Noodle, and Bikini in episode 22
Episode 7: Empty, Sprinkler, Spinach and Independence in episode 23
Episode 8: Beauty, Season, Paper and Hamburger in episode 24
Episode 9: Italy, Halloween, Neighbor and Artichoke in episode 25
Additional Images
[
]